"If you make disciples, you always get the church. But if you make a church, you rarely get disciples." – Mike Breen
At New Heights, we've been wrestling with this idea for some time now. Are we making a church or are we making disciples? We want to be making disciples knowing we'll get the church, but if we're honest, we're still figuring this out.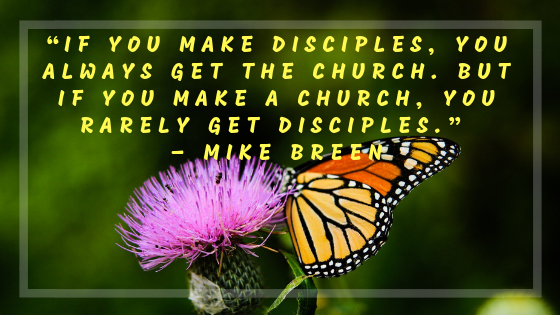 Listen to these words by author and disciple-making leader, Mike Breen in his book, Building a Discipling Culture: 
Effective discipleship builds the church, not the other way around. We need to understand the church as the effect of discipleship and not the cause. If you set out to build the church, there is no guarantee you will make disciples. It is far more likely that you will create consumers who depend on the spiritual services that religious professionals provide.

Jesus had not called you to build his church. Our job, our only job and the last instructions he gave us, was to make disciples (see Matthew 28). And out of this we will get the church. Out of this, the future will emerge, and out of this, there will be a missional wave the likes of which we have never seen.
One of the ways we are building a discipleship culture is through our Learning Community. If you are part of New Heights and want to learn how you can participate in helping to build this culture, check out our first Learning Community on November 14th.